Presentation of a book
Saturday, February 18, 2017 at 1 p.m.
at the Arizona History Museum
949 E. 2nd Street


Tucson – Arizona 85719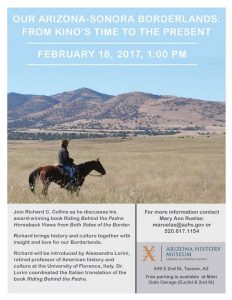 The Arizona History Museum presents "Our Arizona-Sonora Borderlands: From Kino's Time to the Present" by award-winning author and rancher Richard C. Collins.
Richard's presentation brings history and culture together with insight and love for our Borderlands as recounted in his acclaimed book "Riding Behind the Padre: Horseback Views from Both Sides of the Border." Richard knows our Borderlands well as a rancher and as a member of Por Los Caminos de Kino. The riders of Por Los Caminos de Kino, for more than 25 years, have retraced on horseback the trails ridden by Fr. Eusebio Kino, the border region's pioneer missionary and explorer.
Richard will be introduced by special guest Dr. Alessandra Lorini, a leading Kino scholar and retired professor of American History and Culture at the University of Florence, Italy. Dr. Lorini will present Richard with the recent publication of "Riding Behind the Padre" in its Italian translation. Dr. Lorini coordinated the Italian publication which was sponsored by the Associazione Culturale Padre Eusebio F. Chini.
The link to the website of "Riding Behind the Padre" with a book preview of the first chapter is at http://www.richardccollins.com/ Richard's book was awarded "Topic Pick" in the 2014 Southwest Books of the Year: Best Reading by the Pima County Public Library. The New Mexico Book Co-Op chose it as the best book of 2015 in the category of political, social and current event writing
A book signing follows. The event is free with museum admission: $8 general admission.
The program takes place Saturday, February 18, 2017 at 1 p.m. at the Arizona History Museum, 949 E. 2nd Street in Tucson.
RSVP: 520.628.5774 or by E-Mail at  AHSTucson@azhs.gov
More information on Richarda Collins at: http://www.richardccollins.com/