The Last "Cabalgata Por Los Caminos de Kino" – Dec 13th  – 17th, 2017

---
The 2017 Cabalgata Por Los Caminos de Kino – Dec 13 – 17, 2017. Day 3.
For the past 2 days the 20 cabalgantes have traveled on horseback more than 50 miles from Caborca to Trincheras. El Cerro de las Trincheras ("The Hill of the Fortifications") is a large archaeological site with 900 hundred terraces on a 450 foot mountain. Kino rode by the Trincheras in 1694 – 200 years after its abandonment.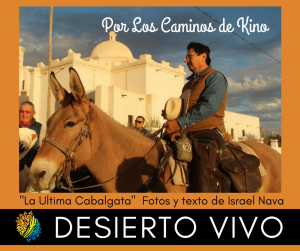 Tumamoc Hill in Tucson is a similar but a smaller archaeological site. Today the cabalgantes will ride 25 miles up the Rio Magdalena to Estación Llano. It is another 2 days and 50 miles through mountains to the site of Kino's mission headquarters at Dolores.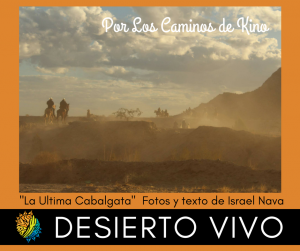 Big Jim Griffith writes about the Trincheras at the following link:
http://tucson.com/news/blogs/big-jim/big-jim-trincheras-sonora-s-most-spectacular-archaeological-site/article_3b7ab2c6-70e3-11e4-bb54-bf0c71df724a.html
---
On notice of the friends of the Facebook profile "Eusebio Kino" … Thanks friends of the FB  profile Eusebio Kino !!