International Movie Tour Schedule
source: www.padrekino.com
---
Trento Premier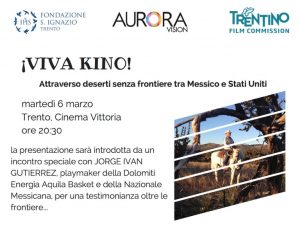 March 6, 2018 at 8:30 pm
Tuesday Evening
Cinema Vittoria Trento
Via G. Manci, 72, 38122
Trento, Italy
Special guest – Jorge Ivan Gutierrez, Mexican playmaker at the Trent "Dolomite Eagles" Basketball Team
More information at:  https://www.cineworldtrento.it/viva-kino/
---
Hollywood Premier and Showings
March 9 to March 15, 2018 – Daily Showings
Arena Cinelounge Hollywood
6464 Sunset Boulevard
Los Angeles, California, United States
Admission Charge
More information at: http://arenascreen.com/
---
Tucson Premier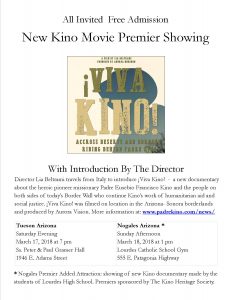 March 17, 2018 at 7 pm
Saturday Evening
Gramer Hall – Saints Peter & Paul School
1946 East Adams Street
Tucson, Arizona, United States
Free Admission and All Invited
---
The Border Wall Premier – Ambos Nogales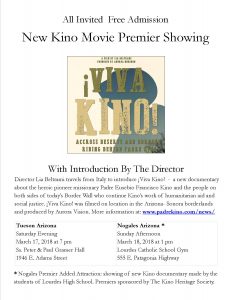 March 18, 2018 at 1 pm
Sunday Afternoon
Lourdes Catholic School Gymnasium
555 E Patagonia Highway
Nogales, Arizona, United States
Afterward the Viva Kino! presentation, the students at Lourdes Catholic High School
will show their Kino documentary that was recently released.
Special guests – Kino Teens of The Kino Border Initiative
Free Admission and All Invited
---
Magdalena Premier

March 19, 2018
Monday
Time to be announced
Venue to be announced
Magdalena de Kino, Sonora, Mexico
---
Hermosillo Premier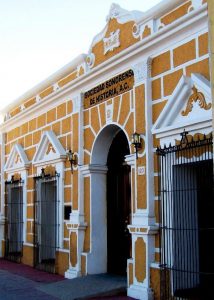 March 20, 2018 at 7 pm
Tuesday Evening
Auditorium Ingeniero Armando Hopkins Durazo
La Sociedad Sonorense de Historia
Rosales 123, Colonia Centro
Hermosillo, Sonora, Mexico
Special guests – Horseback Cabalgantes of Por Los Caminos de Kino.
Information about the cabalgantes on website.
Por Los Caminos de Kino:  http://padrekino.com/kino-s-legacy/caminos-de-kino/
---
Phoenix Premier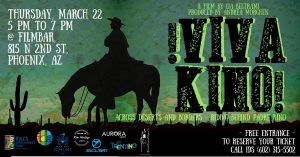 March 22, 2018 at 5 pm
The Film Bar
815 North Second Street
Phoenix, Arizona, United States
MUST RSVP to reserve free ticket.
Telephone (602) 315-5502.
Admission with reservation only.
Sponsored by La Raza Development Fund
For sponsor information on website
La Raza Development Fund:  http://razafund.org/
and
Instituto del Desierto Sonorense , information on Facebook Home
Desierto Vivo:  https://www.facebook.com/DesiertoSonorense/
---
Premier Introduction by Director and Producer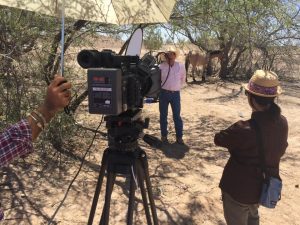 Viva Kino! Director Lia Giovanazzi Beltrami and producer Andrea Morghen from  Italy, will be in the United States and Mexico to present their film. Their award winning Italian film company Aurora Vision traveled in May 2017 to the borderlands of Sonora and Arizona to film on location.
Follow the film tour on Facebook at:
Across Deserts and Borders, Viva Kino:
https://www.facebook.com/VivaKinoAcrossDeserts/
Aurora Vision:  https://www.facebook.com/auroravision/
Eusebio Kino: https://www.facebook.com/eusebio.kino.56
---
Thank You to the International Movie Tour Sponsors who helped make the Kino movie tour possible:
Visit Trentino
https://www.visittrentino.info/en
Wines Mas Del Chini
https://www.cantinamasdeichini.it/
Sicleri Sportwear
http://www.sicleri.it/en/
Relais Piazza Signoria Firenze
http://www.relaispiazzasignoria.com/en/index.php
Ski Center Latemar Pampeago
http://www.latemar.it/en/winter/home-page-winter
---
Tour Contact Person – United States:
Mark O'Hare
Kino Heritage Society
Telephone: (520) 325-2366
Email: padrekino@live.com
---
Press Release
To Download the Premier Showings of  the New Padre Kino Movie by Aurora Vision in U.S. and Mexico in pdf format:
http://padrekino.com/files/6615/2088/5688/02A_Kino_Movie_Tour_News_Release_20180312.pdf