Presentación internacional de la película
fuente: www.padrekino.com
---
Trento Premier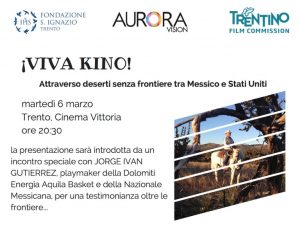 March 6, 2018 at 8:30 pm
Tuesday Evening
Cinema Vittoria Trento
Via G. Manci, 72, 38122
Trento, Italy
Special guest – Jorge Ivan Gutierrez, Mexican playmaker at the Trent «Dolomite Eagles» Basketball Team
More information at:  https://www.cineworldtrento.it/viva-kino/
---
Hollywood Premier and Showings
March 9 to March 15, 2018 – Daily Showings
Arena Cinelounge Hollywood
6464 Sunset Boulevard
Los Angeles, California, United States
Admission Charge
More information at: http://arenascreen.com/
---
Tucson Premier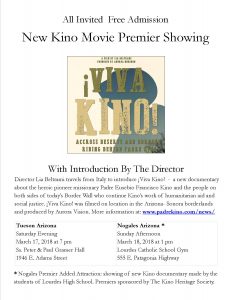 March 17, 2018 at 7 pm
Saturday Evening
Gramer Hall – Saints Peter & Paul School
1946 East Adams Street
Tucson, Arizona, United States
Free Admission and All Invited
---
The Border Wall Premier – Ambos Nogales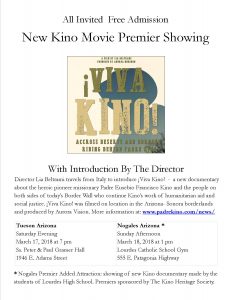 March 18, 2018 at 1 pm
Sunday Afternoon
Lourdes Catholic School Gymnasium
555 E Patagonia Highway
Nogales, Arizona, United States
Afterward the Viva Kino! presentation, the students at Lourdes Catholic High School
will show their Kino documentary that was recently released.
Special guests – Kino Teens of The Kino Border Initiative
Free Admission and All Invited
---
Magdalena Premier

March 19, 2018
Monday
El lugar y tiempo serán comunicados
Magdalena de Kino, Sonora, Mexico
---
Hermosillo Premier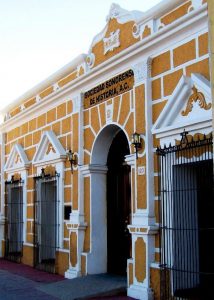 March 20, 2018 at 7 pm
Tuesday Evening
Auditorium Ingeniero Armando Hopkins Durazo
La Sociedad Sonorense de Historia
Rosales 123, Colonia Centro
Hermosillo, Sonora, Mexico
Invitados especiales -Cabalgantes Por Los Caminos de Kino.
Información sobre los cabalgantes en el sitio web.
Por Los Caminos de Kino:  http://padrekino.com/kino-s-legacy/caminos-de-kino/
---
Phoenix Premier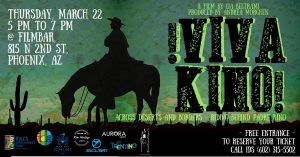 March 22, 2018 at 5 pm
The Film Bar
815 North Second Street
Phoenix, Arizona, United States
MUST RSVP to reserve free ticket.
Telephone (602) 315-5502.
Admission with reservation only.
Sponsored by La Raza Development Fund
For sponsor information on website
La Raza Development Fund:  http://razafund.org/
and
Instituto del Desierto Sonorense , information on Facebook Home
Desierto Vivo:  https://www.facebook.com/DesiertoSonorense/
---
Premier Introduction by Director and Producer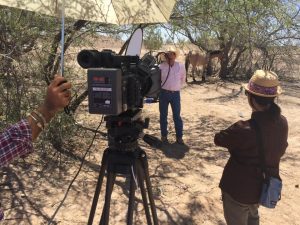 ¡Viva Kino! La directora Lia Giovanazzi Beltrami y el productor Andrea Morghen de Italia, estarán en Estados Unidos y México para presentar su película. Su premiada compañía de cine italiana Aurora Vision viajó en mayo de 2017 a las tierras fronterizas de Sonora y Arizona para filmar en el lugar.
Siga la gira de la película en Facebook en:
Across Deserts and Borders, Viva Kino:
https://www.facebook.com/VivaKinoAcrossDeserts/
Aurora Vision:  https://www.facebook.com/auroravision/
Eusebio Kino: https://www.facebook.com/eusebio.kino.56
---
Gracias a los patrocinadores del Movie Tour Internacional que ayudaron a hacer posible la gira de películas de Kino:
Visit Trentino
https://www.visittrentino.info/en
Wines Mas Del Chini
https://www.cantinamasdeichini.it/
Sicleri Sportwear
http://www.sicleri.it/en/
Relais Piazza Signoria Firenze
http://www.relaispiazzasignoria.com/en/index.php
Ski Center Latemar Pampeago
http://www.latemar.it/en/winter/home-page-winter
---
Persona de contacto – Estados Unidos:
Mark O'Hare
Kino Heritage Society
Telephone: (520) 325-2366
Email: padrekino@live.com
---
Press Release
Para descargar los Premier showing de la nueva Película sobre el Padre Kino de Aurora Vision en los Estados Unidos y México en formato pdf:
http://padrekino.com/files/6615/2088/5688/02A_Kino_Movie_Tour_News_Release_20180312.pdf
---