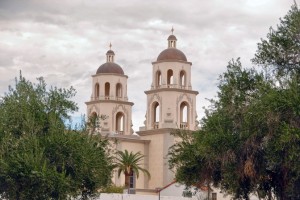 Saturday Afternoon May 21, 2016, From 2 pm to 4 pm.
St. Augustine Cathedral Parish Hall 192 S. Stone Ave. Tucson, Arizona.
Speakers: Fr Greg Adolf, Fr. Chris Corbally & Mark O'Hare. In Solidarity with the 17 other Kino Festivals throughout the Sonora2016 Kino Festival in Tucson – "The Kino Symposium." All Welcome. Free Admission. Saturday Afternoon May 21, 20n Desert celebrating the 50th anniversary of the discovery of Father Kino's grave on May 21, 1966.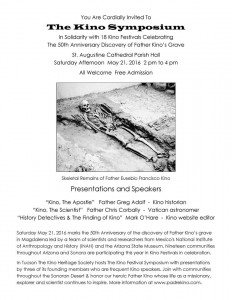 More at:

http://padrekino.com/kino-s-legacy/kino-grave discovery/